Welcome to
LaPoma
&
LaPoma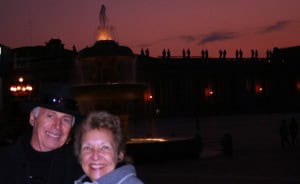 What or who is La Poma & La Poma is a question often asked of us?  That is just what it is – us. Mario & Joanne La Poma.  In 1973, we became husband and wife, Mario had his own construction business, and I had my ballet schools.  A common denominator for both businesses is strong line and design. The quality of both applies to many forms: a building, a ballet, a painting , a piece of furniture etc., and is the essence of exceptional work.  Since we had a "his" business and a "her" business, we decided the "our" business would be our last name twice. We liked the idea of using our name. We would always strive to do everything in our power to have La Poma  & La Poma represent integrity and responsibility.   The jury is still out on which one of us represents the first La Poma.  It is fun to tease about but the most important thing is we are a team, in love, life, and work.
Living in the Winter Park, FL area, our passion for art was easily fueled by one the oldest Sidewalk Art Festivals in America.  Art was our first collection.
The home we lived in at the time was homesteaded in the early 1900's.  The wife of the original owner still was alive and lived in Otto, NC.  We decided to make a trip to visit her and learn more about our home's history.  Six months later we were back in the area looking for property.
Growing up in Rochester, NY Mario's favorite childhood memories were of summers spent in the country on his uncle's farm.  Similarly, Joanne grew up in the middle of an orange grove in Florida, and her family always spent time in the mountains during summer vacations.  Both environments were natural catalysts in learning to respect Mother Nature and the importance of being responsible and independent. Mario's roots in NY with the four seasons coupled with Joanne's intrigue for the mountains with all their flora and fauna, peaks and valleys, meandering streams and powerful waterfalls planted seeds early in childhood.  These seeds sprouted when we discovered the mountains of North Carolina, purchasing our first mountain property in 1976.
Meanwhile, on the Florida front, we started collecting antiques for furnishings and ended up with another piece of Florida property, which included an Antiques Business in 1979.  Our personalities naturally led us to antiques shows, a venue we truly enjoy.  In 1983, we made the decision to become antiques show dealers.  It was a lifestyle that offered the right fit.
The mountains continually called to us. The peaceful lifestyle and unending beauty (in our opinion of some of God's best work) and the ability to take care of oneself are strong pulls to spend more time in NC. After selling some of the Florida property, we again started searching for land that had the qualities we believe in.  The Virginia foothills offered some wonderful, scenic and easy to build on land. 2006 started another chapter in our lives.
Where you are and what you do is never as important as your Faith in God, and the Love and Respect of Family and Friends.  Thanks for visiting our 21st century addition of a web site.  It will be a challenge for our old fashion ways. We truly "Welcome" your interests and invite you to acquire beautiful properties and objects of art in antiques. So start surfing and enjoy.